The Fullervision Weather Resource Page
This page contains a collection of images and links to assist meteorologists (such as myself) in producing forecasts. It includes links to radar, surface analyses, satellite images, model forecasts, upper-air soundings and maps, and the like.
Please note: Many of the tools on this page are meant to be used by meteorologists trained in their usage. Amateurs are free to peruse the materials, and if they can understand them, more power to them. However, if you get in over your heads... don't say I didn't warn you. ~ JMF
P.S. I don't update this page very often. For my weekly weather forecast, which is updated each Saturday morning,
follow this link
.
Today's Weather
Courtesy of the WPC: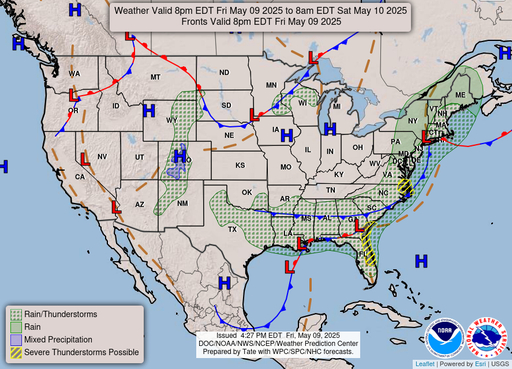 Current Conditions Maps (RADAR, satellite and lightning)
LIGHTNING

SATELLITE


RADAR

SURFACE




Surface-Satellite (loop this)


Surface-RADAR (loop this)


Surface Analysis (loop this)





As

t

ronomy Sun, moon, seasons


(IR) (Visible) (Vapor) (Sounder)



Upper Air Data

Current conditions:

*Requires Java




Seasonal products

Climatology
Model guidance

Synoptic scale:

High Resolution Rapid Refresh- 0-15 hours
Rapid Refresh - 0-18 hours
Rapid Update Cycle - 0-24 hours (moribund)

Rapid Precision Mesoscale

Weather Research & Forecasting (Advanced) - 0-48 hours

Regional Deterministic Prediction System (Canada) - 0-48 hours
Formerly the Regional GEM
RDPS Ensemble

North American Mesocale extra-high (3km) resolution

North American Mesoscale High Resolution - 0-60 hours

North American Mesoscale - 0-84 hours
MOS Compilation Graphics

Japan Meteorological Agency Global Spectral Model - 0-84 hours
Alternate JMA model - 0-8 days

Short Range Ensemble Forecast - 0-87 hours

French forecast model - 0-4.5 days
Model for Prediction Across Scales - 0-7.5 days

Navy Global Environmental Model - 0-8 days

Global Deterministic Prediction System (Canada) - 0-10 days
Formerly the Global Environmental Mesoscale (GEM)
GDPS Ensemble (Mean-Spread, 0-16 days, Postage Stamp)

Integrated Forecast System (Euro) - 0-10 days
More ECMWF options (0-7 days)

Flow-following, finite-volume Icosahedral Model - 0-14 days

North American Ensemble Forecast System - 0-16 days

Global Forecast System - 0-16 days
GFS-MOS Compilation Graphics
GFS Ensemble (Mean-Spread, Spaghetti, Postage Stamp 0-10 days)
Parallel GFS

Coupled Forecast System / Climate Forecast System
1-4 weeks, in one-week intervals
Daily max/min temperatures, 1-90 days & other data 3-6 weeks


Mesoscale:


From the NWS Buffalo Office - Western & Central NY
From WGN-TV - Chicago - Midwestern U.S.


Model output statistics:

Regional Radars

Italics indicate non-government radars.


Links



Fullervision Enterprises, Unltd. 2002-16