weather / fullervision.net
Resources, maps and more from Fullervision Enterprises

Latest updates―November 2017

I've added two specialty models (an ocean/lake wave model and a radio wave bending model), as well as the Japanese long-range model. I'm also shifting to a simplified design template across the site.

Today's Weather (from the WPC):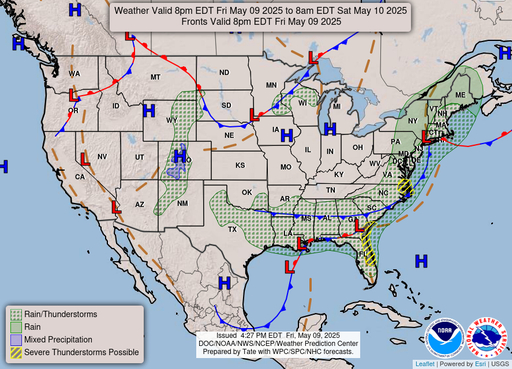 Current Conditions Maps (RADAR, satellite and lightning)
Current conditions:

SATELLITE


SURFACE


RADAR

Upper Air

Soundings, plots, cross-sections

As

t

ronomy Sun, moon, seasons

LIGHTNING

Satellite-RADAR

Surface-RADAR (loop this)


U.S.-Canada RADAR

Surface-Satellite (loop this)


Surface Analysis (loop this)



Regional RADAR


Italics

indicate non-government radars.

Terrestrial lightning detection
(GOES-16 lightning detection)

(IR) (Visible) (Vapor) (Sounder)



History / climatology

Local climate:





Seasonal products
Model guidance

Synoptic scale:

High Resolution Rapid Refresh- 0-15 hours
Rapid Refresh - 0-18 hours
Rapid Update Cycle - 0-24 hours (moribund)

Rapid Precision Mesoscale

Weather Research & Forecasting (Advanced) - 0-48 hours

Regional Deterministic Prediction System (Canada) - 0-48 hours
Formerly the Regional GEM
RDPS Ensemble

North American Mesocale extra-high (3km) resolution

North American Mesoscale High Resolution - 0-60 hours

North American Mesoscale - 0-84 hours
MOS Compilation Graphics
Short Range Ensemble Forecast - 0-87 hours

French forecast model - 0-4.5 days
Model for Prediction Across Scales - 0-7.5 days
Japan Meteorological Agency Global Spectral Model - 0-8 days
Alternate GSM link (0-84 hours)

Navy Global Environmental Model - 0-8 days

Global Deterministic Prediction System (Canada) - 0-10 days
Formerly the Global Environmental Mesoscale (GEM)
GDPS Ensemble (Mean-Spread, 0-16 days, Postage Stamp)

Integrated Forecast System (Euro) - 0-10 days
More ECMWF options

Flow-following, finite-volume Icosahedral Model - 0-14 days

North American Ensemble Forecast System - 0-16 days

Global Forecast System - 0-16 days
GFS-MOS Compilation Graphics
GFS Ensemble (Mean-Spread, Spaghetti, Postage Stamp 0-10 days)

Ensemble Prediction System (Japan)
1-4 weeks, in one-to-two-week intervals

Coupled Forecast System / Climate Forecast System
1-4 weeks, in one-week intervals
Daily max/min temperatures, 1-90 days & other data 3-6 weeks


Mesoscale:


From the NWS Buffalo Office - Western & Central NY
From WGN-TV - Chicago - Midwestern U.S.


Specialty

Ocean Waves / Great Lakes - 0-10 days

Atmospheric radio wave bending - 0-6 days

Model output statistics:

NWS guidance


Short-to-medium range (WPC)

Medium-range (CPC) (discussion)

Extended range (CPC)


Links



About this page / legal disclaimers

This page contains a collection of images and links to assist meteorologists (such as myself) in producing forecasts. It includes links to radar, surface analyses, satellite images, model forecasts, upper-air soundings and maps, and the like. Some of the content on here is experimental. While most of the content on here is either public domain (U.S. government data) or freely licensed (Canadian and Japanese government data), there are some items that are copyrighted (television station RADARs, some forecast models, New York State government data, and the USPLN lightning detection maps) and may only be used and redistributed under the terms and conditions set by the copyright holder.

While this page has been made in good faith, neither Fullervision.net nor its owner makes any warranty or statement regarding the reliability of these products and will not be held liable for anything stemming from its use. You alone are responsible for what you do with this information.

Please note: Many of the tools on this page are meant to be used by meteorologists trained in their usage. Amateurs are free to peruse the materials, and if they can understand them, more power to them. However, if you get in over your heads... don't say I didn't warn you.

Fullervision Enterprises, Untld. 2002–2017